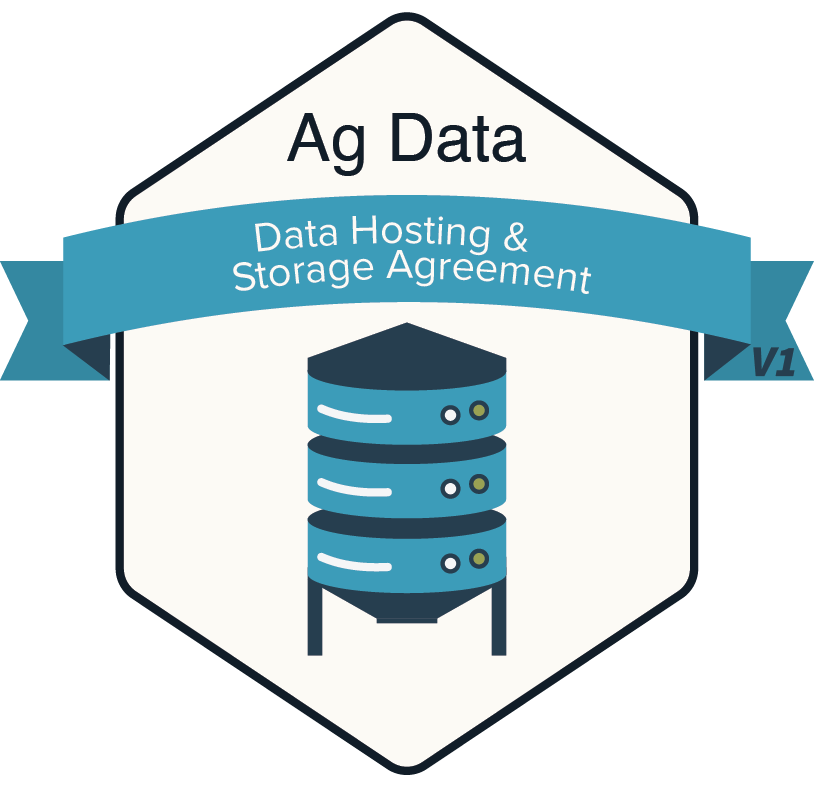 This document is intended to provide a boilerplate agreement between land stewards and/or trusted advisers and the data service providers. Land stewards and/or their trusted advisors act as data controllers, originators, stewards or their proxies, while data service providers are those that host or store agricultural data. Service providers are the signatories to this agreement and are the party referred to as "we, us, or our" throughout the document. land stewards and/or trusted advisers are referred to as "users" throughout the document.
Preamble¶
Service Providers are required under this agreement to achieve and maintain a standard for hosting, storing, and securing sensitive data and agricultural information. As is consistent across all of OpenTEAM's data use agreements, data hosts and storage providers in our ecosystem must agree to ensure that land stewards and their proxies are assured that service providers are upholding their data rights.
OpenTEAM's Data Hosting and Storage Agreement follows the 8 primary principles of OpenTEAM's Agriculturalists' Bill of Data Rights:
Ownership and Sovereignty*
Privacy and Security
Access and Use
Erasure
Transparency and Informed Consent
Benefit*
Correction
*Note: Principles of Ownership and Sovereignty, and Benefit are covered within conditional data use agreements.
This document establishes a framework for appropriate measures for hosting and storing confidential data. Service Providers agree to the terms of this document, which is intended to be paired with relevant conditional data use and proxy agreements to allow users to manage and assign ownership, sovereignty and benefits.
I. Control & Use¶
Rights Maintained: Ownership & Sovereignty; Transparency & Informed Consent
Identity¶
While using the data hosting service, a user will be required to provide verifiable unique identifiers such as an address, mobile phone number, or verified email address. These identifiers will enable a user's secure retrieval and future portability and transfer of data rights, through conditional use and proxy agreements.
Usage Data¶
Usage Data is collected automatically when using the Service only for monitoring, maintaining, and optimizing the service and providing metrics back to the users. This monitoring is required for invoicing for data storage and computational cycles.
Usage Data may include information such as a user's device's Internet Protocol address (e.g. IP address), browser type, browser version, the pages of the Service that a user visits, the time and date of a visit, the time spent on those pages, unique device identifiers and other diagnostic data.
When the user accesses the Service by or through a mobile device, the Service Provider may automatically collect information for ID verification, including, but not limited to, the type of mobile device used to access the service, a mobile device's unique ID, the IP address of a mobile device, a mobile operating system, the type of mobile Internet browser used, unique device identifiers, and other diagnostic data.
We will not share a user's data except for the purposes outlined in conditional data use agreements or as required by law.
II. Processing and Security¶
Rights Maintained: Transparency & Informed Consent; Erasure; Portability; Correction
Best management practices for hardware and software security are implemented as outlined in current standard operating procedures and/or best management practices document which is available upon request. These conditions have been audited by [ third party certification ]. While reasonable steps will be taken to ensure data security, no method of transmission over the internet or method of electronic storage is 100% secure.
We only have access to data through the terms set out under this agreement.
To manage user requests: To attend and manage user requests to us.
For business transfers: wer may use a user's information to evaluate or conduct a merger, divestiture, restructuring, reorganization, dissolution, or other sale or transfer of some or all of our assets,
To provide and maintain the service, including to monitor the usage of the Service.
To manage a user's account: to manage a user's registration as a user of the Service. The Data a user provides can give the user access to different functionalities of the Service that are available to a registered user.
Data Retention¶
The Service Provider will retain data only for as long as is necessary for the purposes set out in this Use Agreement. The Service Provider will retain and use data to the extent necessary to comply with its legal obligations (for example, if the Service Provider is required to retain data to comply with applicable laws), resolve disputes, and enforce its legal agreements and policies.
The Service Provider will also retain Usage Data for internal analysis purposes. Usage Data is generally retained for a shorter period of time, except when this data is used to strengthen the security or to improve the functionality of the Service, or the Service Provider is legally obligated to retain this data for longer time periods.
All user data are either mirrored or backed up on a specified frequency and are therefore recoverable and portable for an agreed-upon term of not less than five years, unless data has been transferred out of the system and the user has opted for erasure.
Data Transfer¶
The user's information, including data, is processed at the Service Provider's hosting locations and in any other places where the parties involved in the processing are located. This means that this information may be transferred to — and maintained on — computers outside the user's state, province, country, or other governmental jurisdiction where the data protection laws may differ from the user's.
The Service Provider will take all reasonable steps to ensure that data is treated securely and in accordance with this Agreement. No transfer of data will take place to an organization or a country unless there are adequate controls in place including the security of data and other information.
III. Disclosure¶
Rights Maintained: Transparency & Informed Consent
Business Transactions¶
If the Service Provider is involved in a merger, acquisition, or asset sale, data may be transferred. Data cannot be transferred in a business transaction unless the transferee accepts the obligations defined in this Agreement. The Service Provider will provide at least 60 days advance written notice and the opportunity to opt-in or opt-out before data is transferred and the Agreement is assumed by a new entity.
Third-Party Services¶
The Service Provider may use third-party service providers to monitor, analyze, or interoperate with the service. The Service Provider requires all third-party service providers to follow the same levels of protection defined under this agreement.
Payments¶
The Service Provider may use third-party services for payment processing (e.g. payment processors).
The Service Provider will not store or collect the user's payment card details. That information is provided directly to its third-party payment processors whose use of the user's information is governed by their use agreement. All payment processors must adhere to the standards set by PCI-DSS as managed by the PCI Security Standards Council, which is a joint effort of brands like Visa, Mastercard, American Express, and Discover. PCI-DSS requirements help ensure the secure handling of payment information.
IV. Exercising of Data Protection Rights¶
Rights Maintained: Erasure, Access and Use, Correction The user may exercise the user's rights of access, use, erasure, and correction by contacting the Service Provider. Please note that the Service Provider must ask the user to verify the user's identity before responding to such requests. If the user makes a request, the Service Provider will follow a best efforts process to assure timely responses [specify a defined response time here]
V. Law enforcement and Legal Requirements¶
Rights Maintained: Privacy & Security; Transparency & Informed Consent
Under certain circumstances, the Service Provider may be required to disclose data by law or in response to valid requests by public authorities (e.g. a court or a government agency).
Other Legal Requirements¶
The Service Provider may disclose data in good faith if such action is necessary to:
Comply with a legal obligation
Prevent or investigate possible wrongdoing in connection with the Service
Protect the safety of users of the Service or the public
Protect against legal liability
Changes to this Boilerplate Agreement¶
This boilerplate which is intended to be customized by the parties to the agreement is governed through an annual versioning process - which can be tracked here. The Service Provider is a signatory to this process - so any changes to its version and signature can be monitored through the following site. Changes to this boilerplate agreement are effective when posted on this page.
Contact Us¶
If the user has any questions about this agreement, the user can contact us:
By visiting this page on the Service Provider site: [The service provider SITE_CONTACT_PAGE_URL] By sending us an email: [The service provider SITE_CONTACT_EMAIL]